Browse Categories
Contact Us

Company: Shenzhen OMK ELECTRONICS CO., LTD Tel: 0086-755-83222882 E-mail: ivy@szomk.com.cn



ADD: 616 Room, Building 505, Shangbu Industry, Hangtian Road, Futian District, Shenzhen, China

Contact Now
PCB Wire Protection Terminal Block Connector AK167R-5.0
Specifications
1 Model Number:AK167R-5.0
2 Pitch:5.0mm
3 Rated: 250V,16A
4 Type: Wire Protection Terminal Block Connector
5 Color: Green
6 Wire Range:22-14AWG(2.5MM2)
7 Pole:2p 3p to any pole
8 Brand: SZOMK
9 Sample Available
Quick Details:
1 Place of Origin: Zhejiang, China (Mainland)
2 Packaging Details:Box length:260mm ,Width:200mm Depth:100mm .1000pcs/box
3 Delivery Detail:normally 3-5 days after payment
4 Top quality products with certification of CE,UL,ROHS
5 Prompt reponse for your inquiry
Characterization
PCB terminal block is mainly characterized by the monomer and the  circuit  board  soldering  and wiring easy, and reliable screw  connection. The pitch is 3.5, 3.81, 5.0, 5.08,  and so on. The  terminal  blocks  can  be  combined  with 3P and 2P. The products without stitching are also available. The wiring directions are front, side, slope and other different styles.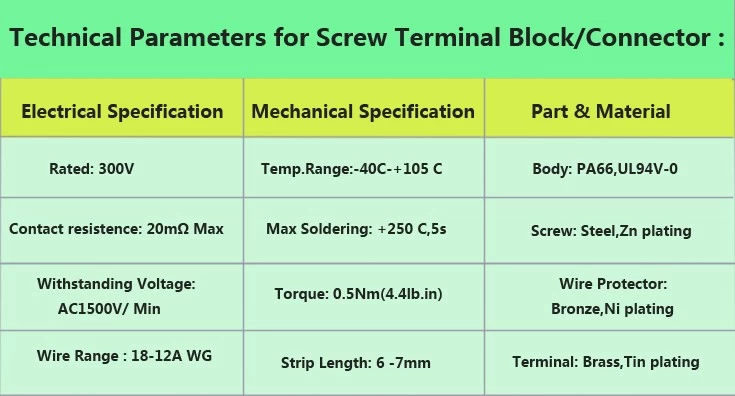 OTHER PRODUCTS